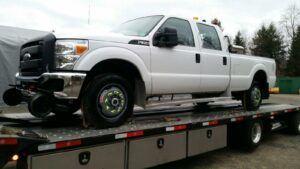 We've all had those days.  You know, those unenviable times where everything that can go wrong does!  I've heard it called "Murphy's Law"– and sometimes even worse (complete with expletives)!  So how do we avoid such days, especially while working on the railroad? 
To me, giving yourself the best opportunity to be successful begins with proper planning.  As Winston Churchill said: "He who fails to plan, is planning to fail".  For many of us involved with railroad maintenance and construction, the spring season provides the best opportunity for us to get our ducks in a row, so to speak.  Ask yourself:
Are your Hy-Rail trucks and Maintenance-Of-Way (MOW) machines ready for service?
Are your Federal Railroad Administration (FRA) Annual HiRail Inspections current, complete with the required documentation? 
Have your fire extinguishers, personal protective equipment (PPE), emergency spill containment materials and first aid kits been updated?
Do you and your employees have all of the tools needed to properly complete the work at hand? 
If you answered "no" to any of these questions, then now is the time to take care of these details, take charge and get organized– before a problem really becomes a problem!
At
Fast Track Railroad Equipment Sales, LLC
, we may have the solutions you need.  We've recently taken delivery of several work trucks with rail gear, direct from Class I fleets, that can help you tackle the jobs that lie ahead.  Many of these specialty railroad vehicles are equipped with utility bodies for secure tool storage.  Some trucks are equipped with hydraulic tool circuits to operate impact wrenches and specialized tools.  Other units have already been serviced and inspected to make them "work ready" the day they arrive.  And, all of our trucks are offered with our transparent vehicle "up front" pricing.  If a vehicle on our website doesn't have a price shown, it's still receiving service and upgrades, but you can always contact us for our best price, representing the actual investment put forth to date.  This approach eliminates the guess work and haggling often involved with purchasing railroad equipment.  It's a way of doing business that we enjoy as much as our customers!              
So, although on some days, it may feel like it's just "you and your hy-rail truck against the world", it really isn't.  Relax. 
Fast Track Railroad Equipment Sales, LLC
is here to help.  In fact, we're always just a phone call away! 
Benjamin E. Clark, Manager
Fast Track Railroad Equipment Sales, LLC
(603) 398-8720 
2012 CHEVROLET 2500HD EXTENDED CAB RAILROAD PICKUP TRUCK WITH HIRAIL GEAR - Unit 215
2012 CHEVROLET 2500HD EXTENDED CAB RAILROAD PICKUP TRUCK WITH HIRAIL GEAR - Unit 215